'Service' Battalion
'F' Coy
'F' Company (Haltwhistle) notes:
HQ - The Armoury, Castle Terrace, Haltwhistle.
The 4th Bn adopted a four Coy system during January 1915. 'F' Coy amalgamating with 'C' Coy.
Officer Commanding: Capt. Rowland Burdon Webster
Rowland (b.1890) was the son of Ernest Alfred Webster (1855-1924) and Agnes Amelia Stephenson (1858-1942). Ernest was a shipowner originating from Pallion Hall, Bishopswearmouth, but later residing at. Wolviston Hall, Stockton on Tees and Unthank Hall, near Haltwhistle.
The wider Webster family were owners of the world's first machine-made rope factory (Websters & Co). The factory was at Deptford on the River Wear. Websters began to experiment with iron wire ropes during the 1830s, starting full-scale production around 1842 with the first iron wire haulage rope being supplied to Washington colliery in 1843.
Rowland's grandfather Christopher Maling Webster married into the neighbouring shipbuilding dynasty of Laing in 1839. He married Mary the daughter of Philip Laing and sister of Sir James Laing. The Laing shipyard was next to the ropeworks. Websters and Co developed strong markets in railway and colliery haulage, and experimented during the 1830s with iron wire ropes which went into production in 1842 or 1843. (Victoria County History, n.d.)
Lt Clive Montagu Joicey
In the County of Durham, coal mining was for the most part in the hands of a few large and important companies or private individuals, such as the firm of James Joicey & Co Ltd. The firm was founded by schoolmaster James Joicey (1806-1863) who started working the coal deposits in the Beamish area in 1838. It proved to be a successful venture and by 1860 the firm had fourteen collieries employing several thousand workers in numerous occupations.
The eldest of seven children, James, it would seem, involved the entire family in the business because his brother John (1817-1881) became one of the wealthiest coal owners in the north of England, and became engaged in other branches of industry. John was a magistrate for Northumberland and a deputy-lieutenant for the county of Durham. He was High Sheriff for the latter county in 1878. He was also a Lt Col in the 1st Administrative Battalion of the Durham Rifle Volunteers. Also lived at Urpeth Lodge. He was well known as a staunch and earnest Liberal, elected Liberal MP for North Durham at the 1880 General Election. In 1867 John Joicey, M.P. for North Durham, died at his residence, Newton Hall, Stocksfield in 1881.
James' nephew James Joicey (1846-1936) became chairman of the company which operated several collieries in the West Durham coalfield including pits at Beamish and Tanfield. He was also a British Liberal Party politician, elected as MP for Chester-Le-Street at the 1885 general election. He held the seat until the 1906 election, was created a Baronet in 1893 and then elevated to the peerage as Baron Joicey in 1906. From 1887 his seat was Longhirst Hall near Morpeth. In 1906 he bought the Ford Castle estate, Ford, Northumberland and in 1908 the Etal Castle estate, Etal, Northumberland.
James' brothers, John and Edward (1825-1879) bought land in 1864 and three years later had built Whinney House on it. Later that year John gave his share of the estate to Edward. Edward was apprenticed to Robert Stephenson and Co. and, having served his time as a mechanical engineer, he entered commercial life as a partner in the family firm set by James and John. Edward lived in the house until his death, but in 1876 he had already purchased the Blenkinsopp estate near Haltwhistle, including the hall. Edward's widow lived in the house until her death in 1906. Edward was succeeded by his son (also called Edward (b.1865)) who in 1881 married Florence Lillian Raylton Dixon (1866-1944) in 1877. There were five children Florence Muriel (b.1890), Edward Raylton (b.1890), Clive Montague (b. 20 Dec 1891), Maud and Audrey (b.7 April 1894). In 1910 Edward was a County Magistrate for the Haltwhistle Petty Sessional Division and a Captain in the 3rd NF. He took command of the 3/4th NF in Hexham on its formation in 1915. Clive joined the 4th NF in 1913 and embarked for France with the rest of the battalion in April, 1915. He was wounded at the second Battle of Ypres, but re-joined the battalion in February, 1916. He was wounded for a second time in May and again returned to the front line in April, 1917. and was killed in action on June 5th, 1917, while attached to the 21st NF (2nd Tyneside Scottish) gallantly leading his men in an attack on Greenland Hill, near Arras. A brother-officer wrote to his father:
" I knew your son Clive very well indeed, but I am sorry to say not for long. We came out here together this last time and have been practically together ever since. I was with Clive an hour before he was killed. He was on my left, about 120 yards further down the trench. I found him as cheery as ever, his old self, and a good man to be with when going over the bags. I heard afterwards that he led his Company to the first objective, cheering the men on to the last until he was killed instantaneously by a shell. His Company did gloriously and took all objectives. I know that was largely due to Clive's great dash and fearlessness . . . there is some consolation in knowing that he died doing his duty at the head of his men".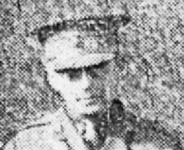 2nd Lt William Maitland Turner
Born Hexham in 1893. Resided Denton Hall, Low Row, Brampton.
Col Sgt J. Parker (Permanent Staff)
'Reserve' Battalion (2/4th)
'F' Coy
'Reserve' Battalion (2/4th)
'F' Coy
Officer Commanding: Capt. James Allan Herriott
James Allan was the son of James and Thomasine Herriott and was born in 1885 in Berwick-upon-Tweed. He was educated from 1895 at Cargilfield School and Fettes College (1901) in Edinburgh and at Clare College, Cambridge University. In 1914 he was commissioned into the 4th NF and for a period served as commandant of a Lewis Gun School at Le Touquet. He was a major on demobilization and married Gladys Marion Darwell in 1919. They resided, from 1920 onwards at Hopeville, Castle Terrace in Berwick. All his business life was spent working for the timber importing and joinery firm of Allan Brothers for whom he became Joint Managing Director in 1919 with Mr Caverhill upon death of his father David. On Mr Caverhill's death six years later he became Chairman and Managing Director. Gladys died of lobar pneumonia on the 6th of June 1933 aged 40, immediately after an ear abscess was treated by an, Edinburgh specialist. She was buried in 1933 in Berwick Cemetery. In 1936 James married Elisabeth Foster Banks in London. During WW2 James raised and commanded the local Air Training Corps (1016 Sqn), a unit which still thrives in 2012. He was an active Rotarian, town councilor and served as Mayor of Berwick on Tweed, a magistrate (JP) and sheriff. James was a keen sportsman, playing cricket, rugger, hockey, golf and tennis, as well as fishing and shooting. He died in December 1946 in Hopeville, Berwick-Upon-Tweed and was buried in January 1947 in Berwick Cemetery.
2nd Lt James Hope-Wallace
James' grandfather, The Honourable James Hope, 1807-1854 was the second son of General John Hope (4thh Earl of Hopetoun) and born in Fifeshire. He joined the Coldstream Guards in 1821 and retired as a Lt Colonel in 1844.
He went to Canada with his regiment in 1838, and in November of the same year was selected by the governor-general, Lord Seaton, to raise volunteers for service in the province. In less than a week after receiving the commission he had succeeded in organizing the "Queen's volunteers," a regiment of 1,000 men, ready to perform garrison duties in Quebec, which enabled the Grenadier guards to be moved up the country.
Soon after leaving Canada, Colonel Hope succeeded to the estates of his uncle, Lord Wallace (1768–1844), whose name he took (Hope-Wallace), but not the title. The inheritance included the Northumberland estate of Featherstone Castle.
He was elected unopposed as the Conservative of Member of Parliament (MP) for Linlithgowshire in the 1835 general election and re-elected in 1837. He died in Featherstone Castle on the 7th of January 1854.
The eldest of James Hope-Wallace's three sons (John George Frederick Hope-Wallace) was born in Quebec in 1839. John married Mary Frances Bethune and the couple had seven children the fourth eldest of whom was James.
James was born on the 20th of February 1872 in Kensington and inherited the Featherstone estate. He held the office of Justice of the Peace (ThePeerage.com), (1881 Census). He married the Honourable. Ursula Mary Addington, daughter of Gerald Anthony Pellew Bagnall Addington, 4th Viscount Sidmouth and Ethel Mary Tonge, on the 3rd of November 1909. He died aged 45 on Satureday the 15th of September 1917, from wounds received from a bursting shell. James held the office of Justice of the Peace
LOCAL MEN IN ACTION - LIEUT. J HOPE-WALLACE
Lieut J Hope-Wallace of Featherstone Castle Haltwhistle died in France on Saturday last as the result of wounds received from a bursting shell and the news of his death carried widespread regret in the district. Lieut Hope-Wallace joined the local battalion of the Northumberland Fusiliers soon after the outbreak of war being gazetted as 2nd Lieut on the 16th September 1914. He became temp.Capt. in the following year and after remaining in that capacity for a time proceeded to his full Lieutenancy in September 1916. He did his training in various north country stations going out to France about a year ago. He was recently at home on leave and attending the memorial service of his brother officer Capt. Clive M Joicey at Greenhead church on August 7th.
Lieut Hope Wallace succeeded his father in 1900 as the owner of the Featherstone estate which covers a wide area and includes many notable farms and the family seat. Featherstone Castle situated amid beautiful scenery on the South Tyne has considerable historical interest. He took a great interest in agriculture and at the time held the office of president of the south Tyne Agricultural Society and always kept himself in touch with its doings. He was made a County Magistrates in 1912 and when in the north sat regularly on the county bench. He was one of the church wardens at Haltwhistle Parish Church with which his family has long been connected and was a very regular attender at services. He was a strong churchman and interested himself in all church matters and indeed in all that happens in the Haltwhistle district. In November 1909 he married Ursula Mary Addington, daughter of the Hon Gerald and Mrs Addington of Up-Othery Manor Othery St Mary who with 2 young children survive him. The wedding was very notable and brought together a distinguished company of guests. He was popular alike with his brother officers and the rank and file in general and his death will be sincerely mourned in his battalion. (Hexham Courant, 22nd Sep 1917).
Lt James Hope-Wallace is buried in Hibers Trench Cemetery near Wancourt, France.
Following the outbreak of World War I, Featherstone Castle was leased to an Alnmouth preparatory school and during World War II it was used by a school relocated from Rugby. From 1942 a Prisoner of War camp was based there.