Service Battalion
'E' Coy
'E' Company (Corbridge) notes
HQ -
The 4th Bn adopted a four Coy system during January 1915. 'E' Coy amalgamating with 'A' Coy.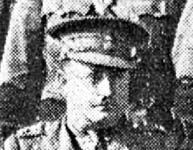 Officer Commanding: Capt. Francis Robinson
Frank (b.1885) was the eldest son of John William and Elizabeth Anne Robinson. The Robinson's drapery business was on Fore Street in Hexham. His father and grandfather had been drapers. Francis was at Cambridge University in 1901 (1901 Census)
Lt. Col. Frank Robinson succeeded Colonel M.C. Lake as the commander of the Aden Protectorate Levies (APL) in 1929; a post he was to occupy until 1939. In 1928, when he first arrived, the APL comprised two British officers and six platoons of Arabs (each one officer and thirty four men) recruited from tribes in the Western Protectorate states, they had 48 camels and 8 mules. The APL recruited from various tribes living in the foothills and the higher mountainous regions of the protectorate. (Pickering) Aden Airways
2nd Lt Wilfrid Joseph Bunbury
Wilfred was born on the 21st February 1882, the second son of Colonel Charles Thomas Bunbury (formerly of the Rifle Bde) and Lady Harriot Bunbury, of Cotswold House, Winchester. He was educated at Beaumont and St Georges College, Weybridge, where he matriculated at the London University Examination; he was afterwards at Ushaw College, Durham. On the 24th of September 1908 he married Dorothy Beresford, second daughter of Major.A.J. Preston, B.A., J.P. (late of the 33rd Duke of Wellington's Regiment), of Swainston, Kilmessan, Co. Meath. Bunbury was employed by the stockbroking firm of Wise, Speke and Company in Newcastle on Tyne.
A keen sportsman, he was a well-known member of the St. George's Hockey Club and played for them frequently; he also played centre half-back several times for Northumberland County. He was also a very keen cricketer, playing for Northumberland County Club, the Yorkshire Gentlemen and the Borderers. He was a member of the Portland Park Tennis Club, in Newcastle and played there most days during the season whilst he was residing in Newcastle. He joined the 4th NF on the 4th of August 1914 and volunteered for foreign service. He was promoted Lieutenant on the 27th December of the same year. Bunbury embarked for France with the 4th NF on the 20th April 1915, and was wounded on the 24th of May 1915 during the second battle of Ypres.
After several months of hospital treatment and convalescence he reported for duty with the 3/4th Bn and attended a course of physical training and bayonet exercise at Aldershot. He was appointed Physical Training Officer (PTO), first to his Bn, then to his Bde, and subsequently to a Command Depot in Ireland. During his time as PTO at the Redcar camp in the summer of 1916 he arranged most successful sports and was complimented by the General. At Ballyvonare Camp, Buttevant, County Cork, to which post he was appointed in September 1916, he organised physical activities for the men, including cross-country runs and boxing matches, all of which were greatly appreciated by the convalescing soldiers in his charge. He held this appointment until receiving orders to return to France.
He crossed the Channel on the 8th March and was attached to the 6th NF Northumberland Fusiliers. He was killed in action on the 15th April 1917 whilst leading his men in an attack on an enemy post. His Colonel wrote:
"He was leading an attack in a conspicuously gallant manner and was the first man into the enemy trench when he was hit in the face and died painlessly. We recovered his body and buried it at night. His death was a great grief to me as we were great friends when he was in my Company, where he always earned our admiration for the thorough way in which he carried out any work entrusted to him
2nd Lt David Thompson Turner
In 1891 his father was a provision merchant living at 64 Brighton Grove, Elswick. By 1901 his mother and father lived at No1 Warkworth Terrace, Tynemouth. – Importer of provisions
David was killed in June 1915
Col Sgt Thomas William 'Tope' Smith
Thomas (4/202) embarked for France with the rest of the 4th Battalion on 20th April 1915 and was wounded at the Battle of St Julien on the 26th of April 1915.
He reported for duty with the 3/4th Battalion NF in Hexham on the 22nd of June 1915.
Transferred to 4th Reserve Bn on 1 Sep 1916.
'Reserve' Battalion (2/4th)
'E' Coy
'E' Company notes
The 2/4th battalion became part of the newly formed 188th Bde, 63rd Divn during January 1915. The 63rd Divn was tasked with home defence, but was disbanded in Jul 1916.
The 2/4th joined the 217th Bde, 72nd Division, but continued with home defence duties. The 72nd Divn was broken up Jan - Apr 1918
Officer Commanding: Capt. Seymer Hankin
In 1891 the 18-year old Seymer was stationed at Brittania Barracks in Norwich, the depot of the Norfolk Regiment. He was born in Tunbridge Wells, Kent but attended the King Edward VI school in Stratford upon Avon.
The London Gazette dated 6th of February 1891 records his promotion from gentleman to 2nd Lt in the Norfolk Regiment on 7th Febuary is listed (London Gazette, 1891).
The Gazette also records his Promotion to Captain in the 4th NF on the 29th of September 1910 (London Gazette, 1911).
2nd Lt Percival Edward Cox
Percival was the son of Elswick grocer William M Gregory (b.1866) (3&4 Studley Terrace, Elswick) mother Ann E Gregory (b.1865), daughter Mary E (b.1891), Violetta (b.1892), Thomas W (b.1895), James H (b.1900).
2nd Lt Jonathan Angus Bagnall
Jonathan was born in November 1895, and attended Loretto school between 1910 to 1913. He enlisted in the 4th Bn NF at the outbreak of war, but was given his commission in November 1914, and went to France early in 1915.
On the 15th of September 1916, the 4th were attacking a German trench and Lt. Bagnall was wounded at the first assault, but went on, and fought his way in with the bayonet. Then, seeing a wounded brother officer lying exposed to heavy fire outside the trench, Bagnall went out to bring him to safety, and was shot dead.
Information taken from the website of the Lorettian School Society, Edinburgh. www.lorettoniansociety.org.uk/memorial/ww1/biog3.htm)