'B' Company (Bellingham) notes
HQ -
Data on 112 known former members of 'D' Coy is held.
'G' Coy amalgamated with 'B' Coy during Jan 1915
Full Company strength from here on was approximately 227 officers and men
'B' Company subdivided into four platoons - 5, 6, 7 & 8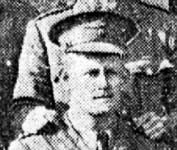 Officer Commanding:
Capt. Edward Cecil Dixon
His father was an Iron merchant (1891) living Malvern Street, Elswick. Edward was born in Walker, but by 1901 a bank manager in Bellingham
2nd Lt Roger William Cranage
Formerly 2nd Lt in Shrewsbury School Contingent, Junior Division, Officers Training Corps
2nd Lt Guy Laing Bradley
Guy was born in Newcastle, but living in Burswell Avenue, Hexham by 1901. His father was a Bank of England Clerk.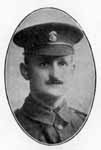 Col Sgt E. Nixon
'Reserve' Battalion (2/4th)
'B' Company notes
The 2/4th battalion became part of the newly formed 188th Bde, 63rd Divn during January 1915.
The 63rd Divn was tasked with home defence, but was disbanded in Jul 1916.
The 2/4th joined the 217th Bde, 72nd Division, but continued with home defence duties.
The 72nd Divn was broken up Jan - Apr 1918
Officer Commanding:
Capt. Herbert Goodall
Former Cadet at Leys School Contingent, Junior Division, Officers Training Corps
Born Newcastle 1893
Father Arthur Goodall (b.1868 – Garforth, Yorkshire) a Chemical Manufacturer living at Dene House, Walbottle
2nd Lt Edward Noel Rees
Born Birtley, Durham
Bellingham