Northumberland Voluntary Aid Hospitals
3rd Northumberland VAD
In Hexham the pre-existing convalescent home in Hextol Terrace became the 3rd Northumberland V.A.D. hospital, with an annexe in nearby Cotfield House. The Commandant here was Marjorie Henderson, whose father, Charles Henderson, owned Hexham racecourse. On 21st November 1915 the Hexham Courant reported the arrival in Hexham of a batch of wounded soldiers; "for the first time in living history, though it is possible wounded might have arrived in Hexham during Wellington's Netherlands campaign." The party comprised English, French and Belgian soldiers, who were convalescing after treatment at Armstrong College, Newcastle, itself commandeered for the duration of the war as the Northern General War Hospital. This unusual event would have become all too familiar 12 months later after the carnage of the Somme.
www.donmouth.co.uk
Several of the soldiers now located at the 3rd N.V.A. Hospital, Convalescent Home, Hexham, are quite unable to get about, and motor drives would be very acceptable to them. We are sure this only needs mentioning to secure them such necessary outings.

Article published in Hexham Courant - Saturday 22th May 1915
3RD N.V.A. HOSPITAL, HEXTOL TERRACE & COTFIELD HOUSE, HEXHAM

The Matron begs to acknowledge with thanks the following gifts: - Collected in the Tarset district by Mrs Robson, eggs and cakes; the Misses Spencer, motor ride to Hallington and tea there; Mrs J.C Straker, rabbits; Martha Watson, flowers; Mrs John W Robson, cauliflowers; Mrs Roy Charlton, eggs and magazines; Mrs Hulsen, fruit; the Misses Hulsen, toffee and cakes, Mrs Russell Cairns, two motor rides; Mrs Steadman and Miss Houghton, lettuce and water cress; Miss Barrasford, eggs and flowers; Miss Savage, chocolates and sweets; Mrs Plummer, scones; Mrs Clark, magazines; Mrs Smith and Mr Benjamin Dodd, slippers, papers, cigarettes; Mr Grant, motor ride; Mr Bennett, cigars; Edith and Maynee, matche and paper.

Wanted. - Hats (for soldiers to wear in garden) straw or any material not heavy: fruit and green vegetables.

Article published in Hexham Herald - Saturday 29th May 1915
Mrs Emma Longdon Coleman was the Matron and was awarded the Royal Red Cross - 2nd Class
Hexham Courant 12 June 1915 page 8 column 3.

The Matron begs to acknowledge with thanks the following gifts:- Mrs Russel Cairns, motor rides, tea at Hackwood, and eggs; Miss C Spencer, jam; Mrs Low, scones; Mrs Sisterson, several motor rides and vegetables, Mrs Jackson, Netherton, eggs and fruit; Mrs Alder, butter and eggs; Mrs Bickers-Stephenson, eggs and cake; the Misses Spencer, vegetables and butter; Miss Johnson, cigarettes; Mrs Fisher, motor rides and vegetables; Miss Benson, several motor rides and vegetables; Mrs Lawson, lettuce; Mr Shield; lettuce and radishes; Mrs Johnstone, vests and socks; Mrs JC Straker, loan of a car, rabbits; the Misses Atchison, books and fruit; Mrs Bates, potted meat and sweets; Anon., fruit and vegetables; Mr Clark, paper and envelopes, cards; Mrs Hulsen, cigarettes; a friend, 1lb tea; Miss Harrison, motor ride; Mrs Henderson, motor car rides and tea at the Riding; Mrs Dodds, papers; Mrs Clarence Smith, motor ride; Miss Pickering, eggs; Mr Grant, motor ride.
 The Matron will be glad to receive gifts of old golf clubs, putters and balls with which to play clock golf; old tennis rackets and balls; men's tennis shoes (old ones), and cakes.

Article published in Hexham Courant - 25th March 1916
Article published in Hexham Courant - 12th June 1915
9TH N.V.A HOSPITAL, CHESTERS HOUSE, HUMSHAUGH
On Thursday, June 3rd, Miss Marguerite McIntyre and party very kindly gave us a most enjoyable musical evening. The audience included Mrs Clayton and house party, twenty-two inmates of the hospital, the nursing staff and house servants. At the close of the evening Corporal Murray proposed a hearty vote of thanks to our entertainers and to Mrs Clayton for the great kindness and interest she shows to the patients.
Since the opening of the above on 1st April 1915, 38 overseas cases have been treated, 16 of which have been recently discharged. Owing to numerous cases requiring massage, one of our VAD nurses is specialising in this subject and will henceforth devote her whole time to the treatment of these cases.
The hospital is open for inspection on Sundays and Wednesdays between the hours of 2 and 4. Any gifts, however small, are always gratefully received.
A list of people who donated is included. Local donors mentioned were: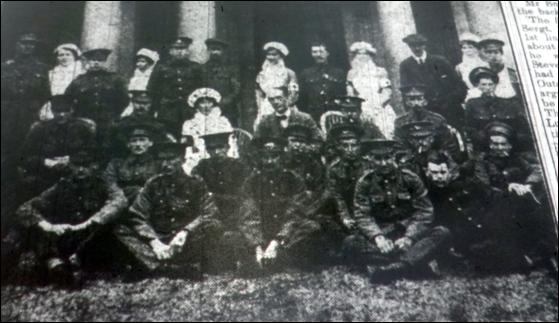 Article published in Hexham Courant - 25th March 1916

4TH N.V.A HOSPITAL, DILSTON HALL, CORBRIDGE

The commandant of the 4th Northumberland V.A Hospital, Dilston Hall, Corbridge, acknowledges with very many thanks the following gifts:- Mrs Stappard, 6 eggs; A friend, 6 eggs; Mrs Dent, 12 eggs; Mrs Coulson, 8 eggs; Mrs Ridley, 10 eggs; Mrs westaby, 8 eggs; Mrs Croudace, 16 eggs; Mrs Laws, 7 eggs; Mrs Laing, 12 eggs, scones; Mrs Heslop 6 eggs; Mrs J.H Straker, teacakes and oranges; scholars of Townfield school and other friends, 100 eggs; Misses Ord, eggs; Mrs Wardle, eggs; Mrs Mewse, eggs; Mrs Ball, eggs; Mrs French, eggs; Misses Peacock, eggs; Mrs Dinnin, 6 eggs; Mrs Heslop, 7 eggs; Mrs Laing, four pairs of socks; Mrs Stoppard, eggs; Miss Straker, 12 eggs; Mrs Norman Newall, 12 eggs; Mrs Cuthbert, vegetables and fish; Mrs Sewell, 24 eggs; Mrs Forrester, 7 eggs; Miss Ridley, 7 eggs; Miss Wood, 12 eggs; Mrs Nesbitt, 6 eggs; Mrs Bryant, 6 eggs; Mrs Pigg, scones and 8 eggs; Mrs Stevenson, 2 eggs; Miss Dixon, teacakes and 6 eggs; Mrs Lebour cake and 6 eggs; Mrs Drury, cake; Mrs Hutchinson, cake.


Mrs Ethel Nest Newall was the Commandant and Organiser of Dilston Hall Auxiliary Hospital. She was awarded the OBE for services.
Miss Grace Darling Lambe was a Charge Sister and was awarded the Royal Red Cross - 2nd Class.
Miss Margaret Cranage was a member of the nursing staff and was also awarded the Royal Red Cross - 2nd Class.
Hexham Courant - 21st August 1915

Miss Ogle donated a gramophone to the hospital.

The following activities were arranged for the soldiers.

On August 5th, an enjoyable afternoon was spent at Wark Vicarage. On August 7th, a croquet tournament was arranged by Lady Swinburne at Chesters. It was appreciated by the men, most of whom could take part. On August 9th, Mr and Mrs W J Noble had engaged 'The Jollies' from The Sele, Hexham, to give a special selection of their programme. The men proved to be an enthusiastic audience.

Wanted, strong woman to act as ward-maid, board and lodgings provided. Apply by letter to Matron, No 9 NVAD, Chesters, Humshaugh-on-Tyne.
The Chesters Estate
Lisle Lawrence (left) with a patient at Chesters Hospital Courtesy Mrs R Barriskill and Mrs J Ogle
Situated five miles to the north of Hexham, the Chesters estate encompassed the ruins of Hadrian's Wall at its juncture with the North Tyne. The estate was purchased in 1796 by Newcastle's Town Clerk, Nathaniel Clayton and on his death in 1822 passed to his son John (b.1792).
John was a Newcastle lawyer, noted antiquarian and also the town clerk. On taking possession of the estate John set about preserving the sections of the Wall which lay in the grounds and, over the years that followed, purchased a number of farms which straddled the wall as far west as the Cumberland border. This was a determined effort by John to stop the continual destruction of the wall by those removing the cut stone for local building projects. This was the start of the ongoing work to preserve Hadrian's Wall. (Richards, 2008). When John Clayton died, a batchelor and childless, in 1890 the estate was inherited by his nephew Nathaniel George Clayton. When he died, just five years later (d.1895), his widow Isabel inherited the estate. It was Isabel who sold Anick cottage to Alfred James Foster.